Outdoor Event Tent Rentals Made Easy in Annapolis,MD
Set a Festive Feel with Our Frame Tent or Pole Tent Rentals
For those hosting outdoor events, tent rentals from Annapolis' Rentals to Remember help create a comfortable, shaded environment suitable for any occasion. Our party rental company provides both frame tents and pole tents for your consideration. Of the two types, pole tents are usually the more budget-friendly choice, although you may opt for a frame tent if your event requires a lot of open space. Pole tents may be staked into either grass or asphalt, while frame tents use anchored weights to hold them securely in place on any surface. Pole tents will require additional square footage to accommodate the staking on all sides. So, if you need a 20′ x 20′ pole tent, be sure to give yourself at least 30′ x 30′.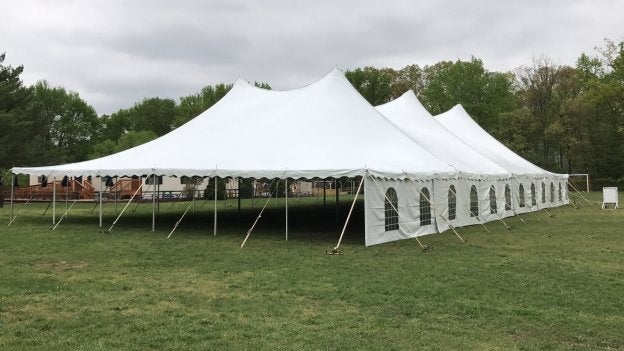 How Do I Determine What Size Tent Rental I Need?
When deciding which type of tent rental is best for your event, you'll need to consider the total number of guests and tables, whether you need a dance floor, and if you'll be serving a meal buffet-style that will require multiple serving stations. It's essential to measure your available open space accurately, taking into consideration any physical obstacles in the way (trees, shrubs, buildings, etc.). When you contact Rentals to Remember for a party rental quote in the Annapolis, Baltimore, or Washington, D.C. area, we'd be happy to help you determine the appropriate size of tent rental for your next gathering!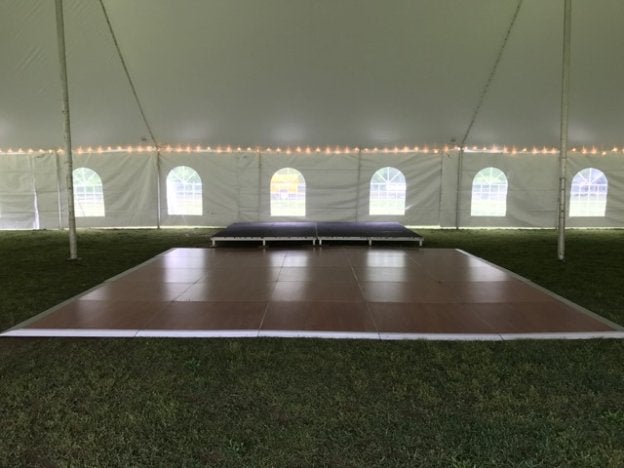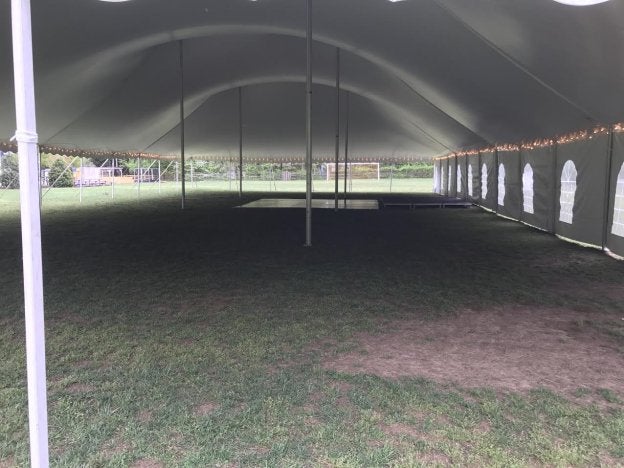 Frame Tent Rentals Offer an Open Area for Your Guests
Frame tents offer a large, open area for your guests to dine, dance, or mingle in style without any pole obstructions blocking their line of sight. Instead of relying on poles, these tents are supported by a frame and come in various sizes to accommodate events of all sizes, including any of the following:
Size
10X10
10X15
10X20
10X30
10X40
10X50
12X12
12X24
15X15
15X30
20X20
20X30
20X40
20X50
20X60
30X30
30X40
30X45
30X60
40X40
40X60
40X80
40X100
Pole Tents Rentals to Keep Your Guests Shaded and Comfortable
Characterized by their distinctive peaks and straight valances, pole tents add a touch of elegance and festivity to any event. Whether you're hosting a backyard barbecue, wedding, or company picnic, your guests will be kept cozy under our pole tent rentals, which come in the following sizes for all your needs:
Size
40X40
40X60
40X80
40X100
60X60
60X80
60X100
60X120
Unique Flooring and Staging Can be Added Under Any Size Tent
Any private or public event can be enhanced by the addition of a dance floor or platform rental from Rentals to Remember. We provide the following for weddings, galas, and parties of all kinds:
Dance Floor 4'x4' (wood Laminate)
Platform/Staging 4'x8'
Tent Accessories and Fans/Heaters to Enhance Your Event
The last thing you want your guests to feel at your event is uncomfortable. If it's a summertime party, we can provide pole-mounted fans to keep everybody cool. If you're hosting a winter wedding, we can provide heaters and gas propane tanks to keep everybody warm and toasty. We have many accessories available for rental, including any of the following:
String Lighting
Par Can Light
Sidewall 20' Section (clear, white, cathedral window)
Fans/Heaters
Fan- Pole-Mounted
Heater 80,000 BTU Propane
Propane Tank Gas 60lbs
Everything You Need for Your Event Under One Roof
Rentals to Remember offers everything you need for your event under one roof. Contact us today to request a party rental estimate on anything from outdoor tents to dance floors, tables and chairs, custom linens, string lighting, and more in Annapolis, MD and surrounding areas. Our showroom is open Monday through Friday if you'd like to browse our available options in person. We can also make all the arrangements to drop off and pick up rental items at your venue for a hassle-free special day!
Why Choose Rentals to Remember?
Creative Solutions for Elegant Gatherings
Prompt and Personable Service
Clean and High-Quality Products
Customer Satisfaction is Our Priority
Emergency/Same Day Rentals Available
Custom Designed Flatware & China
Linens Sewn In-House