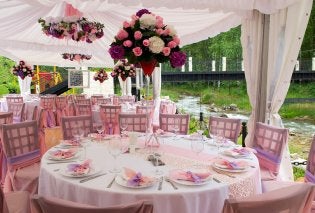 There are so many details to remember when planning your wedding. Table linens near Annapolis may not seem like an important item on your list, but this essential party rental can bring a lot of color and personality to your wedding. Depending on your personal decorating style, you will have a variety of options when renting table linens. Here is a brief guide to help you select linen rentals for your big day.
Determine Your Table Needs
Before choosing your table linens, you need to determine how many tables you will have, as well as the size and shape of the tables. Wedding linens come in many shapes and sizes, so make a complete list of every table you will have. You can do this by finalizing your guest list, finding out what table sizes will work best in your venue, and then selecting the right number of tables to seat all of your guests. Don't forget to also include a table for your cake and any other food stations.
Choose Your Colors
Linens come in nearly every color you can imagine, no matter their size and shape. Decide how you wish to decorate your tables and chair rentals before finalizing the color linens you would like. Depending on the season when you have your wedding, you may want to pair certain colors together through your linens. For example, in the spring, you may have full-size table linen in ivory with a peach-colored table runner, and baby blue linens covering your chairs. There are a variety of ways you can use your linens to represent your wedding's color scheme.
Finalize Your Décor
Do not forget to consider the rest of your wedding decorations when selecting your table linens. For example, you may want to choose plain white table linens if you are designing a bright centerpiece or renting colorful dishes. If you prefer a simpler centerpiece, consider making your table linens brighter to offset the centerpiece. These two opposites will contrast beautifully.