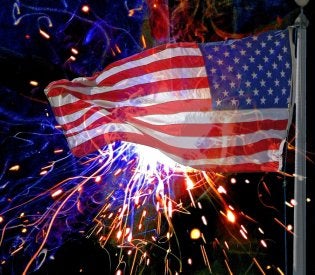 Do not let your 4 th of July party be the same, worn out barbecue you have every year. This year, take advantage of party rentals and go all out for a truly memorable party. Whether you have themed table linens near Baltimore , or you decorate the venue yourself, you will easily have the greatest Independence Day celebration ever.
Get a Good View of the Fireworks
One of the most exciting aspects of 4 th of July celebrations are the fireworks. Everyone loves when the sun goes down, and they can sit back and watch the bright lights and colorful patterns fill the sky. However, to truly appreciate the fireworks, you need to have a good view. Many people have a specific spot they like to watch professional fireworks—a designated neighborhood, a nearby military base, or a city landmark. If your city or county laws allow it, you may also consider lighting some fireworks in your own backyard. Always respect fire and safety rules, and make sure there are no structures, people, or animals nearby.
Serve Patriotic-Themed Food
Why not really impress your guests with some inventive dishes on your serving platters? Desserts are easily decorated in patriotic colors—colored cake, fruit dishes, and decorative icing, to name a few. If you want to really impress your guests with your creativity, research dinner and dessert dishes popular around the time of America's forefathers. You can spruce up any Independence Day barbecue with some inventive food selections and decorations, so get started early and have fun celebrating.
Decorate in Red, White, and Blue
You cannot have a 4 th of July celebration without some patriotic decorations. Consider renting your china or glassware in varying colors of red, white, and blue. You can set up multicolored candles and strings of light that will bathe your guests in patriotic colors. Just like decorating your food, the options are endless when you decorate your party for 4 th of July.