Picking the perfect dance floor rental for a Baltimore event is important. However, the dance floor must be used to be a true asset for your celebration. There are a few easy ways to encourage dancing, such as renting high-quality sound equipment and hiring a great DJ. Read on for more ways to get your guests dancing on your dance floor party rental.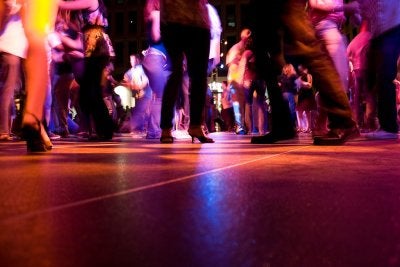 Start the Party
One of the best ways to get your guests dancing is to start dancing yourself. Many times, people wait for a host or a bridal couple to kick off the event, or they need to see someone brave enough to go to the dance floor rental. If your guests seem shy or they are reluctant to start dancing, then be the brave one. Grab your partner or a couple of friends and start dancing. Your guests will soon fill the space around you, and everyone will have a great time.
Allow Song Suggestions
Sometimes, your guests may not be dancing because the music is not to their liking, or they do not consider it easy dancing music. If you have a specific playlist in mind, then consider tweaking it with your DJ or band to allow better songs for dancing. If you have a DJ, then allow your guests the chance to ask for specific songs. When your guests can request their favorite dancing songs, then they are likelier to enjoy the evening and start dancing.
Hire a Great DJ
It is also necessary to have an upbeat and quick-thinking DJ to encourage your guests to dance. Your DJ will keep the evening moving by announcing when the caterer is bringing out the serving platters, when different speeches and events begin, and when the music and dancing will start. Ensure that your DJ has the right energy to keep your guests excited and ready to participate in your event or wedding. Your guests will respond to high energy, and everyone will have a great time.