Before you can arrange your candelabra centerpieces, you need to determine where your table rentals near Baltimore will be located during your wedding reception. Consult with your venue on which types of tables and rental equipment would be best to fit in the space. Continue reading to learn how to arrange the tables at your wedding reception.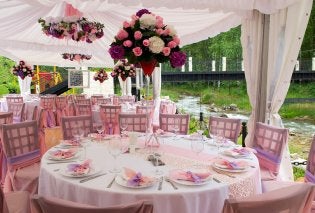 Develop an Arrangement Plan
Your first plan of action will be to receive a layout of your wedding reception venue. This simple drawing—with realistic dimensions and space for landscaping—can help you to decide how many table rentals can fit and where best to place them. Use erasable pencil or have several copies of the venue layout, in case you need to change arrangements. Do not forget to include space for your chair rentals; tables might fit in a space easily, but you must also give a couple feet around each table for the chairs.
Don't Forget Close Family
Once your table arrangement is finished, you might consider adding reserved tables near your head table. Depending on how you design your bridal table arrangement, you may wish to keep a few tables reserved for your close family and friends. Often, receptions can be confusing and filled with people milling around finding seats. Do not let your loved ones be caught in the hubbub; reserve nearby tables for grandparents, siblings, and close friends.
Consider Assigned Seating
Considering that wedding receptions can have hundreds of people trying to find seats, you may wish to plan assigned seating for your guests. Many of your guests will appreciate this direction toward a particular table or seat. Plan out each table with your guests in mind. Try to seat people by friends or family they know or have something in common with. If you have family or friends who do not get along with someone else, then ask them directly who they would prefer sitting next to at your wedding reception.