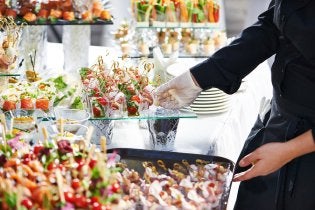 Choosing serving platters in Washington, D.C. for a big event can be an exciting adventure. Serving platters , whether they are being used for a corporate event or a wedding, can complement your event's décor and other party rentals, as well as your own personal style. When deciding which serving platters you would like at your event, keep the following tips in mind:
When deciding on a color, you may want to match the serving platter to the rest of the décor or stay neutral to provide a blank canvas for your table settings. You can pick a white, ivory, or silver platter to remain neutral.
Look at the various china patterns you can choose from. Instead of a solid color or white platter, you can match your color scheme with accents of color on the serving platter.
The serving platters should not look out of place with the rest of your china and rental equipment. Create a flawless look with matching colors, designs, and styles at your event.