It's always best to plan holiday parties well in advance, especially if you would like to arrange a large gathering of guests or if you prefer formal affairs. There are many questions you must answer during the planning process and many details to consider—from the color of table linens you'll use to the number of chair rentals you'll need. Fortunately, choosing rental equipment for a party in Washington, D.C. makes your planning process much more efficient.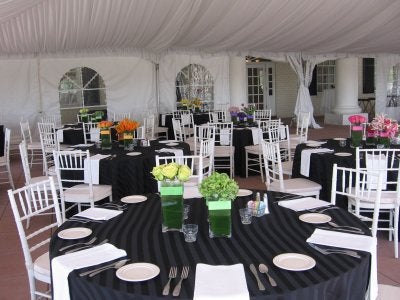 Who will I be inviting?
Developing your guest list should be among your first steps to take. You'll need to finalize the guest list before you can identify the right venue or make decisions about rental equipment. Consider whether you'll allow your invited guests to bring a "plus one." Mail out invitation cards well in advance and make it easy for your guests to RSVP by suggesting that they email their response. Be sure to set an RSVP deadline to allow you enough time to hammer out the details of your event.
Am I planning a sit-down dinner?
Once you've decided on your guest list, you'll need to consider the nature of your holiday party. Are you planning a formal sit-down dinner or a casual get-together? Whichever option you choose, you'll likely want to arrange for the party to be catered. Meet with several caterers in your area to discuss your event. They can suggest menu options for you to consider. Once you have worked out the details of the catering, you can contact a party rental supply company to reserve all of the necessities. At the very least, you'll need flatware, glassware, and serving platters. You may also wish to rent elegant dessert stands, particularly if you're planning a holiday buffet. Champagne and wine buckets are practically a must, along with crystal punch bowls. Coordinate with your caterer to find out which dining items you'll be renting.
What entertainment options should I arrange?
Entertainment is the highlight of every successful holiday party. By renting a dance floor, you can invite your guests to let loose and celebrate. If you plan to arrange live entertainment, you may also need to rent a platform for the musicians.