Spotlight on Our Dance Floor Rentals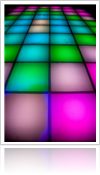 Rentals to Remember has all types of rental equipment to outfit any special event or get together, including a dance floor rental in Washington, D.C . Our dance floor rentals come in a multitude of sizes, colors, and designs to suit any party theme or décor. We pride ourselves on our diverse selection of party rentals, and we are proud to shine a spotlight on our beautiful dance floor rentals. Let's take a closer look at what Rentals to Remember has to offer our valued clients.
In addition to rental equipment—such as audio-visual technology—our clients can take advantage of dance floors and platforms to encourage guests to dance and participate. We have the supplies to create small, large, and multiple dance floors for every event. Our platforms can be rented to showcase a newlywed couple, corporate boss, or motivational speaker. In addition to our platform and dance floor rentals, clients can request china, flatware, candelabras, and table linens.