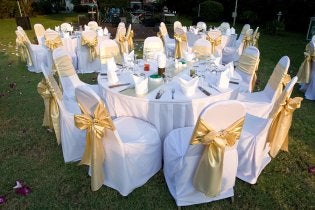 Whether you are throwing a corporate party, a birthday party, or a wedding, you'll have some similar needs for your event. Every event should have the proper supplies so that your guests have a good time and things go off without a hitch. If you are holding your event in a place where supplies are not provided, you'll have to rent everything you need in order to make the party a success. This may include chairs, tables, and even table linens in Annapolis. It's easy to make your event a success when you choose party rentals. Read on to learn about the benefits of doing so.
Cost Savings
Hosting a party can become expensive quickly, especially if you are expecting a large number of guests. You need to provide food, beverages, entertainment, and more, and these costs can really add up. By renting party supplies, you'll save yourself money by not having to buy new products that you may never need again. Party rentals are cost-effective, so you can stick to your budget and perhaps even have a little leftover for splurging.
Selection
As you are planning your party, you'll need to determine what sort of theme you want to have. Instead of looking everywhere to find the chairs and table settings you want to fit your vision, a party rental company should be able to provide you with a wide range of styles. You can save yourself time by not having to shop around, as your party rental company will be a one-stop-shop for all the supplies you need.
Logistics
Throwing a party takes a lot of work, including setup and teardown. Many party rental companies will deliver the items you've rented to your venue and set them up so you can focus on the other details of your event. You can also have the rentals taken away once the party is over, lessening the stress on you even more.