Whether you are planning your own birthday party, your spouse's, or your child's, there are several ways to guarantee a memorable birthday party. Friends and family will be wowed by an original theme, great entertainment, and a dance floor rental in Annapolis. Let's take a closer look at how party rentals , a theme, and entertainment will help you throw a memorable birthday party.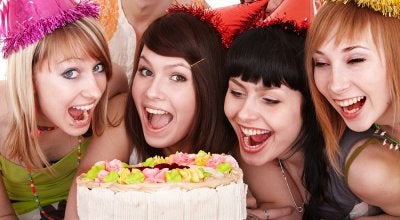 Tip #1: Choose a Great Theme
Part of a great party comes from its theme; your birthday party is not an exception. Take this opportunity to plan out a fun theme where you can decorate, dress up, and treat your friends to a great time. You and your friends will love dressing up for a fun night, and you can find or rent some creative decorations to bring your theme to fruition. Some popular themes you might try include: A masquerade ball, the Roaring '20s, an '80s rave, or a medieval gala.
Tip #2: Find the Right Party Rentals
If you are going to have an '80s rave—or another theme that is equally reliant on great music and jubilant dancing—then you need a dance floor rental and an exceptional sound system. In addition to a dance floor, you can round out your theme with simple party rentals like serving platters, linens, and other decorations. Many rental companies also offer carnival games and other birthday party game rentals. Be sure to ask your local rental company about everything in their rental catalog that can help you throw a memorable birthday party.
Tip #3: Book Fun Entertainment
In addition to creating a memorable theme that you and your friends will enjoy, book some great entertainment. The entertainment might be a DJ playing all of your favorite tunes, but you may also enjoy a local band. Other entertainment ideas can include renting a bounce house, fun group games, or other local talent. If you want something truly original, then look for local performers in gymnastics, juggling, and magic.