Wedding Cake Cutting Made Simple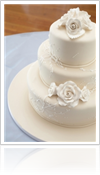 One of the most exciting moments of any wedding is when the bride and groom cut the cake. In this video, you will receive simple instructions for cutting your wedding cake successfully. If your cake has multiple tiers, remove and lift the tiers, before you begin cutting. Once the tiers have been disassembled, you can measure and cut the slices. A company that rents flatware in Baltimore can provide you with the tools that you will need to cut and serve your wedding cake.
If you are preparing for an upcoming wedding, make sure to rent all of the serving platters and china that you will need to serve your guests. A premier rental company can provide you with elegant rentals that will add the perfect touch to your reception.