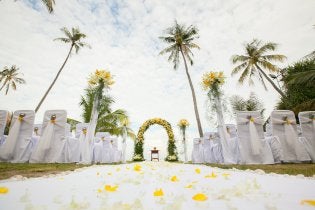 There are many aspects of an outdoor wedding in Annapolis to consider, from the rental equipment to the overall theme and decor. To help you stay organized during your planning, think about hiring a coordinator and rental company experienced in outdoor weddings. They can help you to remember these key aspects of your outdoor wedding:
Think About the Weather
Whether you are having an outdoor wedding in the summer or winter, you need to consider the weather above all else. The weather will affect how the bridal party should dress, as well as how to make your guests comfortable. Consider renting a tent, fans, or heaters, depending on the season. You may want to advise your guests that the venue is located outdoors, so they can dress appropriately. Also, if there is a possibility of rain, then you should have a backup indoor venue or tent in place.
Think About Pest Control
Bugs probably only need to be considered if your wedding is during the summer, but they should still be taken into account. The food and guests' perfumes are just a few different fragrances that might attract some annoying flying insects. Instruct the caterers to have the serving platters covered at all times until guests begin to eat. Offer your guests some bug spray—sunscreen may not be a bad idea either—and set up bug repellant candles or nets around the food and wedding venue. Encourage your bridal party to not wear perfume, and consider using silk flowers, rather than real flowers, as part of your decorations.
Think About the Lighting
One great thing about outdoor wedding venues is the customizable lighting options. You can rent floodlights or hang delicate strings of lights around the venue. Recreate a firefly effect with waterproof submersible lights floating in mason jars. Set up tiki torches to create an island feeling, with the added benefit of keeping the bugs away. The options are almost limitless when it comes to lighting your outdoor wedding, so enjoy the experience.