Your sweetheart table is meant to look brighter and more beautiful than all of your other table rentals in Baltimore. This table showcases you and your new spouse, so it is important to add extra flair. You can add more rental equipment, such as table linens and candelabras. You can also create a personalized backdrop or sprinkle extra flowers. Let's look at some popular décor schemes for your sweetheart table.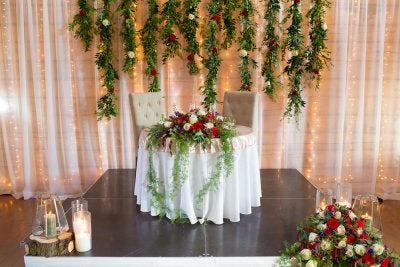 Set up a Backdrop
In addition to decorating your sweetheart table, hang a personalized backdrop behind you and your spouse. The backdrop can be made of a monogramed, decorated, or cut out a piece of fabric, or you can decorate a large piece of foamboard. Consider the material that will best match your wedding theme and decorate it in a complementary manner.
Add Textures
You can also add different types of texture to the table to make it stand out from the rest of your table and chair rentals. For example, bunched-up tulle, faux fur, and burlap all have interesting and noticeable textures that can be dressed up however you like.
Splurge on Linens
The sweetheart table should stand out from the rest of your table rentals. This can be easily achieved with different table linens. Use different colors or pattern of colors from the rest of your tables. You can also choose different fabric, such as satin or silk.
Add Extra Lighting
There are easy ways to add extra lighting to your sweetheart table. Beautiful candelabras can stand on both sides of the table. Small strings of light can circle your table. You can also set up extra tealights around your centerpiece for extra mood lighting.
Sprinkle Flowers
Add flower petals over your entire table and on the ground. Sprinkle your sweetheart table with flowers that match your colors and your décor.
Use Nature
If your wedding is outside, then consider using nature as your backdrop. Set up your sweetheart table against a beautiful hedge and use potted plants to line the aisle to the table.