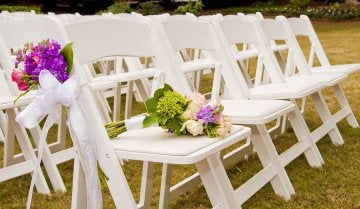 When you are planning a big event, you'll have many decisions to make. In addition to figuring out the guest list, what foods and beverages to serve, and where to hold the party, there are other details to consider. Using party rentals in Annapolis , such as tables, linens, flatware, and chairs, can save you money and make your event much less stressful. It is essential to provide seating at your event, whether you're planning a wedding or a corporate party. Keep reading to learn more about selecting chair rentals for your next event.
Quantity
The number of chairs you need at your event will depend not only on how many people you're expecting, but also the type of event you're hosting. If you are throwing a party with a sit-down dinner, you definitely need to have enough seating for every guest in attendance. In fact, it's a good idea to have extra rental chairs on hand in case any of your guests bring friends unexpectedly. If you are throwing an event where you expect there to be more standing and mingling, you should still have seating areas in strategic locations throughout the event venue so that your guests can take a break and rest.
Color
As you are deciding on the right chairs to rent, don't forget to consider what color will look best with your décor. For example, an outdoor summer wedding might do well with white chairs, especially in the area for the ceremony. If you are having a more formal event or a business event, you might want to choose black chairs. Remember that black chairs may heat up more if they are in the sun, so think about whether the chairs will be inside or outside, and if they'll be covered under a tent or canopy.
Style
Folding chairs are convenient and easy to move, and can make your event planning much easier. They are portable and can be carried quickly from one location to another, such as from a wedding ceremony site to the reception area.