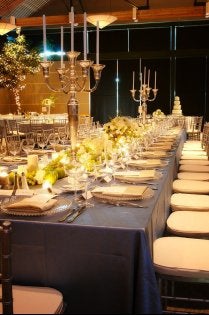 If you're looking for party rentals serving Washington, D.C., you may be wondering exactly what supplies and rental equipment you'll need to make your event a success. Hosting a party is a significant responsibility and can be overwhelming if you don't know where to begin. Read on for a list of necessary party rental equipment that you will need for your celebration.
Seating
Plenty of comfortable seating is an essential element of a successful party. For large events, folding chairs are a practical and affordable option. For a more luxurious party, consider renting slipcovered dining chairs or upholstered armchairs.
Tables
Depending on the kind of party, you will need at least one type of table. If you will be hosting a formal meal, you will need dining tables, which can be found in varying lengths and styles to suit your party's size and theme. For casual parties, consider renting coffee and accent tables to use for dining and decorating. If you plan to have a drink mixing area or buffet, a bar or console table will provide the perfect surface.
Dishware
You can rent any dining ware you can possibly need, including serving platters, bowls, flatware, glassware, and more. Depending on the drinks you plan to serve, you may need champagne flutes, tumblers, beer glasses, wine glasses, or margarita glasses in addition to water glasses. Flatware is available in a broad range of styles and colors, so consider what variety of plate setting will best complement your party's theme.
Decorations
If you want your event to be memorable, custom linens and exquisite décor will help make a lasting impression on your guests. Renting table linens will provide you with a fantastic tool for customizing the look of your tables and enhancing the space's atmosphere. These can be found in a range of materials, colors, textures, and designs.
Dance Floor
Spacious dance floors and platforms are especially important if you plan on hosting all or part of your party outdoors. Indoors or out, a dance floor will encourage your guests to enjoy your stunning party to the fullest.