The wedding rentals in Baltimore that you need for your big day may include wedding glasses, serving platters, and table linens. If you and your partner want to be creative with your festivities and design a signature wedding cocktail, you need to decide on the right type of glassware to drink from. Different kinds of drinks are meant to be drunk from different kinds of glassware. You probably wouldn't drink whiskey from a wine glass or a fine ale out of a shot glass, so you should know how to pair your cocktail and your glass. Keep reading for tips on picking the right glasses.
Everybody's looking forward to watching you and the love of your life tie the knot for good, but everyone is also looking forward to cocktail hour. A signature cocktail is a creative way to make everyone feel like they're part of the wedding, but don't forget to consider the type of glass you'll be serving it in. Highballs, or drinks like Jack and Coke or Scotch and soda, are served in tall, relatively narrow glasses. Flutes let you hold your drink by the stem, so your hand doesn't warm it up, and coupes are the go-to choice for champagne.

Your wedding ceremony should follow some sort of overall theme, which means your wedding rentals in should all match. Before you order your glassware and serving platters, pick a few colors that you'd like to use as the foundation of your wedding design . Think about the venue and the physical location of the reception and consider orienting your wedding colors towards the natural landscape. You can also simply choose to work with your favorite colors, since it's your big day and it should be just how you've always pictured it. Here are some things to consider when choosing your wedding colors.
Think About the Setting
Weddings are expensive, but wedding rentals can help you save a significant amount of money. When you're deciding which wedding rentals you want for your big day, color will be an important factor to think about. Your wedding can look however you want it to, but it's a good idea to think about what the location itself looks like. Look at the scenery and the landscaping, and determine what colors will best complement the surroundings. An outdoor summer wedding and an indoor winter wedding might incorporate completely different colors, so keep this in mind when looking for your wedding rentals.
Go with Your Favorites
Your whole wedding theme should represent a combination of your and your partner's personalities. If you're not so concerned with where and when the event is being held in terms of the colors you choose, then you can always go with each of your favorite colors for your signature wedding colors. Even if you and your fiancé have completely different favorite colors, with the right accents you can incorporate both.
Break the Rules
At the end of the day, your wedding should go the way you want it to. Looking at the latest trends can give you some ideas and inspiration, but the only wedding decoration rules you must follow are the ones that you set for yourself. You might want two main colors in your design scheme, or you might want different color schemes in each room.

When you're planning your wedding reception, the table linens, china, and flatware naturally have a big impact on the scene you're setting, but it's the accessories that really take your event to the next level. Be sure to get all of the finishing touches from your party rental company in Washington, DC to make your reception everything you've dreamed of.
One of the most important accessories for any wedding reception has to be a dance floor. Having an actual dance floor designates a specific area for guests who wish to dance—and those who don't—and it makes it safer for everyone. Dessert stands allow you to spread sweet treats throughout the reception, so that guests can enjoy them as they mingle. Consider specialty seating options, like bar stools, to create seating areas around your venue, so guests find it easy to spend time together. Coffee service is a nice finishing touch to give guests a pick-me-up after their meals.

The office holiday party is a can't-miss event on every company's calendar. Party rentals can help you make the most of yours. If you're in charge of planning the party, here is a look at some of the rental equipment you should consider for your Baltimore event.
Tables and Chairs
Naturally, you will need places for people to sit and relax at your event. Don't limit yourself to the traditional round table and chairs set-up. Mix in some alternative kinds of seating and different types of tables so that people can mingle in different groups. If you plan to have a sit-down meal, you will need to have at least one chair at a table for each person, but if you plan to have stations, setting up a variety of seating areas can be a great way to encourage people to socialize. Don't forget table linens, in seasonal colors or your company's colors.
Dance Floor
Is it a holiday party without dancing? Adding a dance floor to your party rental list has a lot of benefits. Having a clearly dedicated area for dancing may encourage people to get out on the floor. For people who wish not to take part, confining the dancing to a specific area gives them plenty of space to still enjoy the party. Renting a dance floor can also help to prevent spilled drinks and other collisions that can occur when there isn't a specific area for dancing.
Serving Dishes
A variety of serving dishes makes it easier to have food at different locations throughout your event. Consider renting some dessert trays so that there are treats spread across the venue, and different types of bowls and platters to serve up different dishes. If you are having a sit-down meal, you will also need the appropriate plates and flatware for the meal. The bar for the party will also need the rights kinds of glasses for the drinks you're serving, from wine to cocktails to sodas.

The time of day a wedding is held affects everything from the rental equipment choices to the attire of guests. If you're invited to an evening wedding, make sure your elegance matches the wedding rentals in Annapolis with the advice in this video.
Evening weddings are often more formal, so choose long dresses or cocktail dresses. For evening weddings in winter, be sure to consider the temperature when picking your attire. For men, suits or tuxedos are usually appropriate wear. Be sure to check the invitation for dress code recommendations, so you can be sure the clothing you choose fits into the overall design of the wedding.

One of the most crucial decisions that you will need to make for your upcoming wedding is who will help you plan your big day. In order to pull off an amazing wedding, you will need to obtain wedding rentals, such as table linens, glassware, and even a stage rental. A company that offers wedding rentals in Annapolis can provide you with invaluable assistance in the months and weeks leading up to your wedding. Before you decide on a wedding planner, here are some important questions that you should ask:
What is your availability?
When you are considering hiring a wedding planner, one of the first questions that you will need to ask is about your planner's availability. If your wedding planner is all booked up for the date of your ceremony, he or she will not be able to provide you with the assistance that you need. By asking about availability from the beginning, you can ensure that you are consulting with a wedding planner that is able to provide your special day with the attention that it deserves.
Do you have referrals from past clients?
Client referrals can speak volumes about the quality of service that you can expect from a wedding planner. When you are in the initial interview process, consider asking the planner to provide you with recommendations from clients that they have worked with in the past. Your planner may also have a portfolio of images of their past weddings that can give you a sense of their style.
Do you offer both design and coordination services?
Planning a wedding can be a stressful experience that requires careful preparation and execution prior to the ceremony. Ideally, your wedding planner will serve as both a designer and event coordinator for your wedding. Along with helping you create a wonderful style or theme for your wedding, your planner can assist you with practical matters, such as booking rentals and hiring caterers.

Whether you are planning a wedding, or preparing for a formal banquet, you will need to make sure that you obtain all of the flatware and serving platters that are required to serve your dishes. At Rentals to Remember, we are pleased to rent large dishes and serving platters in Annapolis. From china to candelabras, we can set you up with all of the rentals that you will need for your upcoming event.
When you are browsing our collection of serving platters and plates, you will find that we carry a wide inventory of large dishes. Our offerings range from simple to ornate in design, so you will have no problem finding dishes that match the style and mood of your event. We also carry specialty dishes, such as our Saturn bowls, which are perfect for displaying both appetizers and entrees. To get started on your upcoming event rental, reach out to our team of event planning experts.

At weddings, the dances are often a highlight of the event. When you add a dance floor to your wedding rental in Annapolis, it can make the dances even more special by giving them a platform. Here is a guide to some of the dances traditionally held at weddings.
First Dance
The first dance at a wedding is usually reserved for the newlyweds. Pick a song that you're both comfortable dancing to, and don't forget to practice. Even if you think that you're completely at ease dancing together, it feels different when an entire room of friends and family are looking at you in the spotlight. Some couples take this opportunity to dance together to a sentimental song, while others love to surprise people with an unexpected dance routine. Whatever way you decide to go, a dance floor can make it feel more special.
Father-Daughter Dance
The father-daughter wedding dance is a time for the bride and her father to dance together in honor of the transition in their relationship. This sentimental moment usually involves a slow song about family bonds or a song that has special meaning to the father-daughter team. Of course, the father and daughter can also choose to surprise everyone with a choreographed dance. This dance traditionally happens after the first dance of the couple, and usually, the DJ will adapt the song so that it doesn't go on for an extended period of time. Be sure to practice this dance as well. Even if you've danced together multiple times in the past, doing so under the gaze of others during an emotional event can be difficult. Sometimes, during the father-daughter dance, the groom dances with the bride's mother.
Groom-Mother Dance
The dance with the groom and his mother usually comes after the father-daughter dance. It plays out in the same fashion, with a traditional dance to a song that has meaning to the family or through a choreographed routine. This dance will also likely be performed to a song that has been shortened by the DJ, so that all of the guests have time to dance.

A banquet can serve as a formal, celebratory affair for your friends, family, or business partners. When you are planning ahead for a formal banquet, you may want to provide your guests with a seating chart in advance. Along with creating a seating chart, it is also essential to rent china, flatware, and serving platters from a rental company near Washington, D.C. Once you have secured your rentals and created a menu, you will be ready to figure out how your guests will be seated. Let's take a look at some tips for creating seating arrangements for your banquet.
Obtain a Guest List In Advance
In order to create a functional seating arrangement, you will need to know who will be there on the day of the banquet. To save yourself time and energy, make sure that you obtain your final guest list well in advance. When you send out banquet invitations, you can add a firm RSVP date to the invite. Once this date has passed, you will have an accurate list of who will be in attendance.
Consider the Ages of Your Guests
Your banquet's guest list may include young children and elderly people. To ensure that everyone has a great time during your event, make sure to consider the ages of your guests as you are creating your seating arrangement. You may want to consider creating a kid's table, which will allow your younger guests to interact more freely.
Evaluate Relationship Dynamics
A seating arrangement should take into consideration the relationship dynamics of all of the guests that will be attending the event. As you are figuring out where everyone will be seated, consider mixing up couples and friend groups. Placing strangers together at a table can help your guests mingle and make new connections. Ideally, you should strike a balance between seating friends and family members together, and allowing new faces to enter into the mix.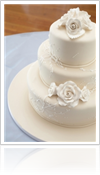 One of the most exciting moments of any wedding is when the bride and groom cut the cake. In this video, you will receive simple instructions for cutting your wedding cake successfully. If your cake has multiple tiers, remove and lift the tiers, before you begin cutting. Once the tiers have been disassembled, you can measure and cut the slices. A company that rents flatware in Baltimore can provide you with the tools that you will need to cut and serve your wedding cake.
If you are preparing for an upcoming wedding, make sure to rent all of the serving platters and china that you will need to serve your guests. A premier rental company can provide you with elegant rentals that will add the perfect touch to your reception.